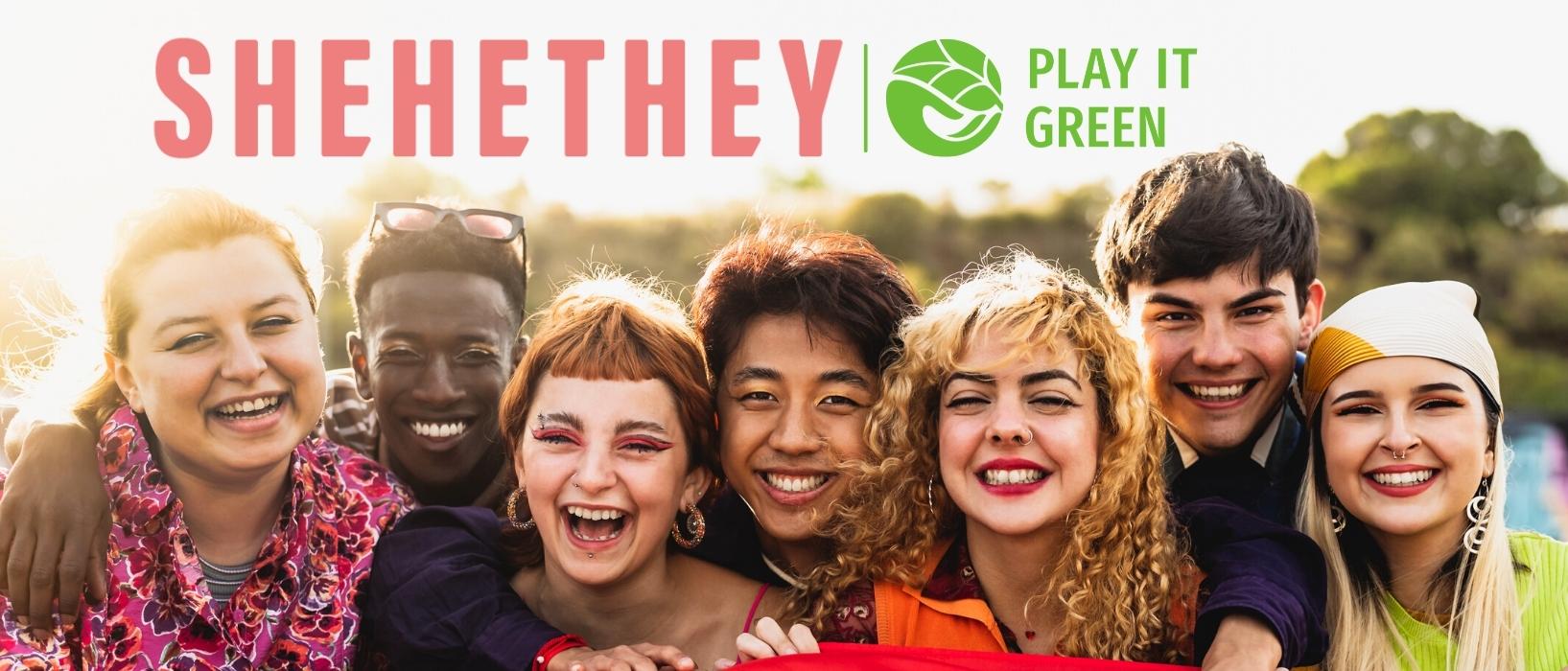 SheHeThey has partnered with Play It Green to make their workforce climate positive, drive sustainability within their business, and make an even greater positive environmental and social impact.
The only marketplace fully dedicated to people who embrace equality, SheHeThey exists to create a cycle of positive consumerism, increase visibility and elevate the voices of underrepresented brands. When people shop with SheHeThey, they're making conscious decisions about their buying habits. Whether shopping for genderless, body-positive, eco-friendly or quirky one-offs, their growing community of businesses offer a fantastic range of products.
Through their partnership with Play it Green, SheHeThey will now be provided with the weekly tips and tools to lower their carbon footprint and accelerate their journey to net-zero, while also making an immediate environmental and social impact through the trees they plant.
Enough trees are planted every month to more than rebalance the carbon footprint of their staff's personal lives and all their work-related travel. On top of that, they will also plant a tree along with every product they sell on their site. This helps lift vulnerable people out of poverty, as they are employed not only to plant but to care for the trees as they grow in developing areas of the world.
Michael Ayre, Co-Founder of SheHeThey, said on the partnership:
"We're incredibly proud to say that we now have a Climate Positive Workforce. Play it Green enable SheHeThey to contribute to repairing our planet and that can only be an amazing thing right?!
We now also have access to expertise and resources and a real-time dashboard showing what impact SheHeThey is having on the world, all of which will further educate our team, our members and our marketplace visitors. Our commitment with Play it Green represents a key element of our wider plans to only have a positive impact on our planet, and we will be using our voice to encourage others to do the same."
Richard Dickson, Co-Founder of Play it Green, added:
"I have known Michael one of the Co-Founders of SheHeThey for a while now and when I heard about their launch and the fact that they wanted to partner with Play It Green I was extremely happy! Diversity and inclusion are so important to Play It Green and me personally and providing a platform for diverse brands to sell on is simply amazing. The fact that they have a climate-positive workforce to lower their footprint with Play It Green and will be planting trees at checkout is awesome!"
As part of the new partnership with Play it Green, the management team and workforce will receive a weekly sustainability tip and related discount on a product to help drive behaviour change, enhance the culture, and lower their carbon footprint.
The weekly correspondence includes sustainability articles to ensure members not only become more climate aware but more aware of the solutions available to make progress in this area.
Through Play it Green's unique three-step solution to climate change, Reduce, Repair, Regive, a tenth of all revenues also go to a good cause of the member's choice. SheHeThey has chosen Sea Shepherd UK, supporting marine life and ecosystems around the world's coasts.
SheHeThey will review the nine key programme areas in Play it Green's Net Zero Framework, free to access for all of our business members to help them drive down their footprint even further.
Find out how Play It Green can help your business
Back to articles