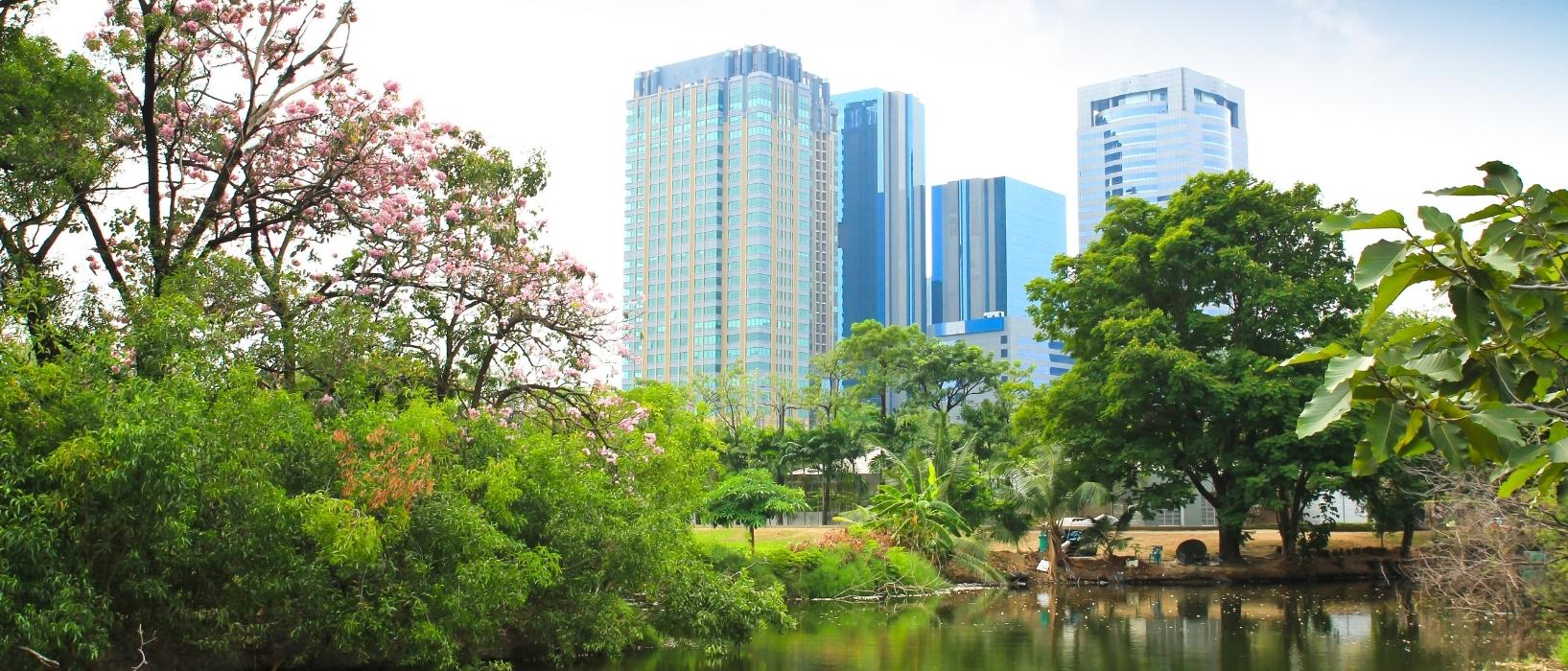 Cities pose a major problem when it comes to solving the climate crisis. Currently, urban buildings alone account for around 40% of all global carbon emissions.
Not only that but those living in cities are also acutely exposed to the effects of climate change.
The UN estimates that by 2050, those 1.6 billion people will become regularly exposed to extremely high temperatures, and over 800 million will be affected by sea-level rises and coastal flooding.
But how can we fix the city problem?
Thankfully, a number of cities around the globe have already taken the first steps to get there, and by looking to them as examples, we can learn how to build a better future for us all.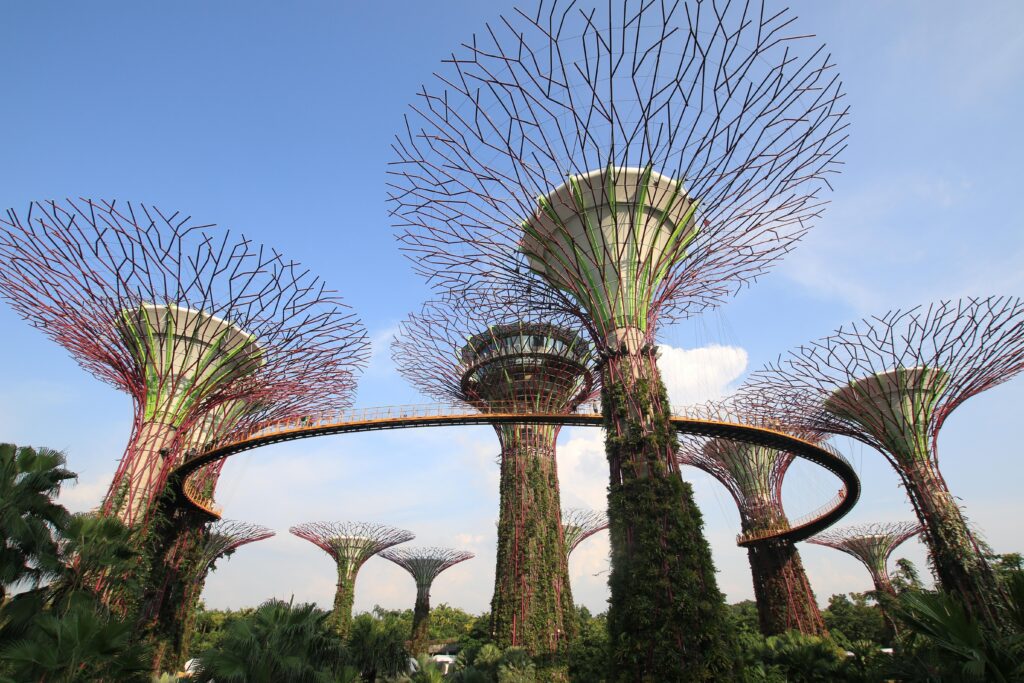 Known as 'The Garden City', it might be no surprise that Singapore takes top place for most sustainable city in Asia. Its first-ever Singapore Green Plan was released all the way back in 1992, seeking to establish clean water, clean air, and clean land.
Nowadays, the compact city-state may be full of towering skyscrapers, but careful urban planning means that nature is woven through every part of it.
Since 2005, all buildings have been evaluated on a Green Mark Scheme based on their environmental impact and performance with three levels; Certified, Gold, GoldPLUS, and Platinum. Since 2008, it has been mandatory that all new buildings are built and run sustainably.
This means that almost all developments include plant life either in the form of green roofs, vertical gardens, or verdant walls.
A fantastic example of this is The Pinnacle@Duxton, the tallest public housing development in the world. It features seven fifty-story buildings, all connected through gardens on the 26th and 50th floors where people can mingle, relax, or exercise.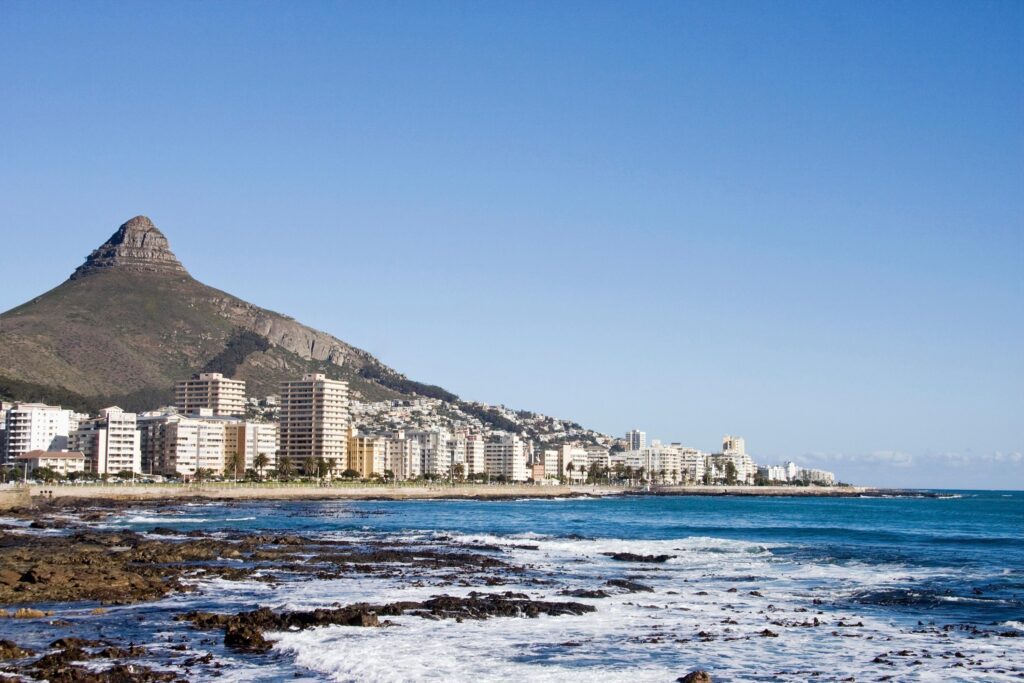 Perhaps one of the more surprising entries on the list, Cape Town's tourism industry has been at the forefront of making the city the most sustainable in Africa.
South Africa became the first country to put responsible tourism into their national policy in 1996, and the Cape Town Responsible Tourism board looked at three main areas to tackle this; economic, environmental, and social.
These were then broken down into seven more focused categories: buying responsibly, conserving water, using energy efficiently, reducing and managing waste, building communities, and developing skills.
With progress being made in these areas, Cape Town also features numerous nature reserves, miles of dramatic coastline, and a very efficient public transport system.
Tourists can also enjoy 'responsible experiences', which help give back to the community and the environment. This includes joining tree-planting efforts or adopting and sponsoring an endangered African penguin.
North America – Vancouver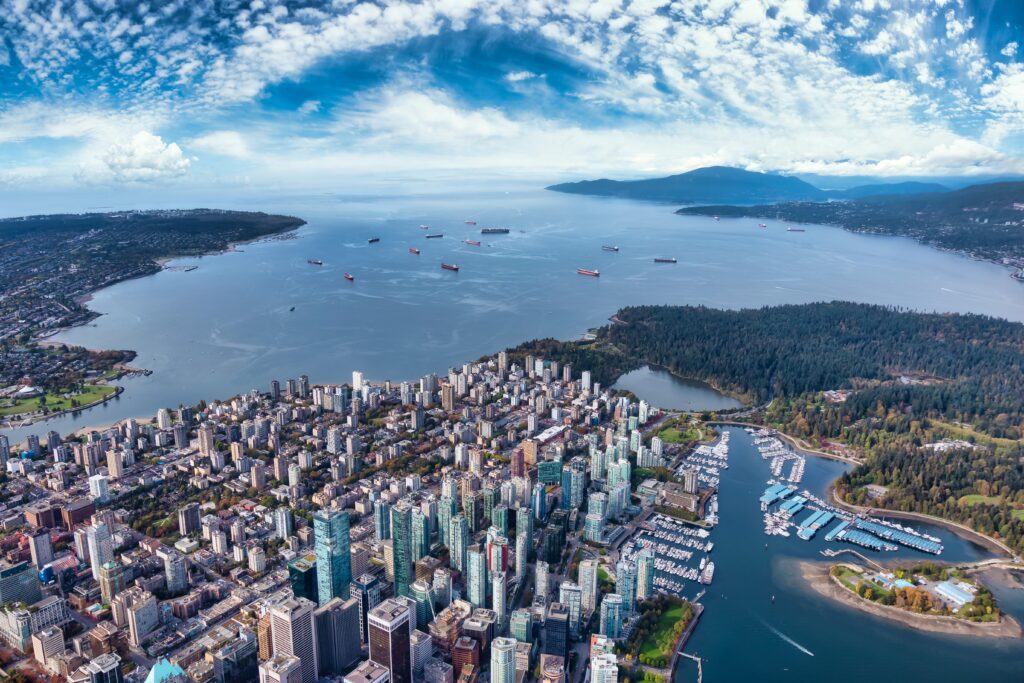 Followed very closely by a number of other Canadian cities, Vancouver is leading the way for sustainable cities in North America with a sterling reputation in environmentalism.
Thanks to its readily available supply of hydroelectricity, 90% of energy used in the city is renewable, making its greenhouse gas emissions very low. The city leaders have also invested a lot of money and time into expanding their mass transportation network, making it not only green but efficient too.
Vancouver already has more than 300 buildings certified through Leadership in Energy and Environmental Design, a green building certification program used worldwide, and have plans to improve on this.
Their Greenest City Action Plan released in 2020 is set to bring their use of renewables up even further and plans to retrofit buildings citywide to increase their energy efficiency.
On top of that, the city is also the headquarters of several prominent environmental groups, including the David Suzuki Foundation and Greenpeace Canada.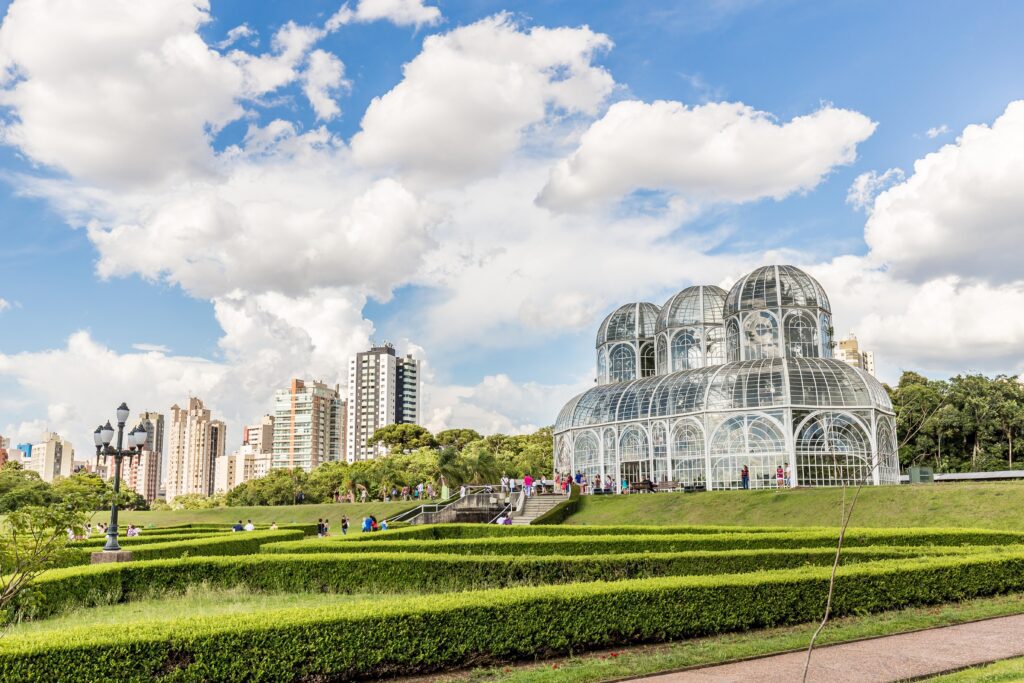 With a population of 1.9 million people, Curitiba definitely isn't Brazil's largest city. You may not have even heard of it. However, with its creative and environmentally-conscious solutions to urban planning, it has become a world-renowned example of how to create a sustainable city.
Curitiba's green solutions include everything from reducing pollution through citywide recycling programs to maintaining biodiversity in the region by planting 1.5 million trees.
Their waste removal program is so efficient that they are able to recycle 70% of all their waste, and even better, it allows citizens to exchange their recycling for bus tokens, notebooks, or even food.
The buses themselves are part of the city's rapid transit system and are designed for quick boarding. The ticket prices are uniform for everyone, and the roads are lined with express lanes specifically designed to maintain efficiency and lower carbon emissions.
In addition to the bus lanes, bikes lanes and pedestrian-only streets are scattered all throughout the city.
Curitiba was also built to be surrounded by fields of grass in order to combat flooding. Instead of using gas-powered lawnmowers to maintain them, sheep are used, with their manure and wool being provided to the city and nearby farms.
Environmental education is also a big theme of the city, with signs and information panels posted everywhere to explain its green designs. On top of that, it runs the Free University of Environment designed to teach every citizen about the value of sustainability, ecology, and maintaining our natural environment.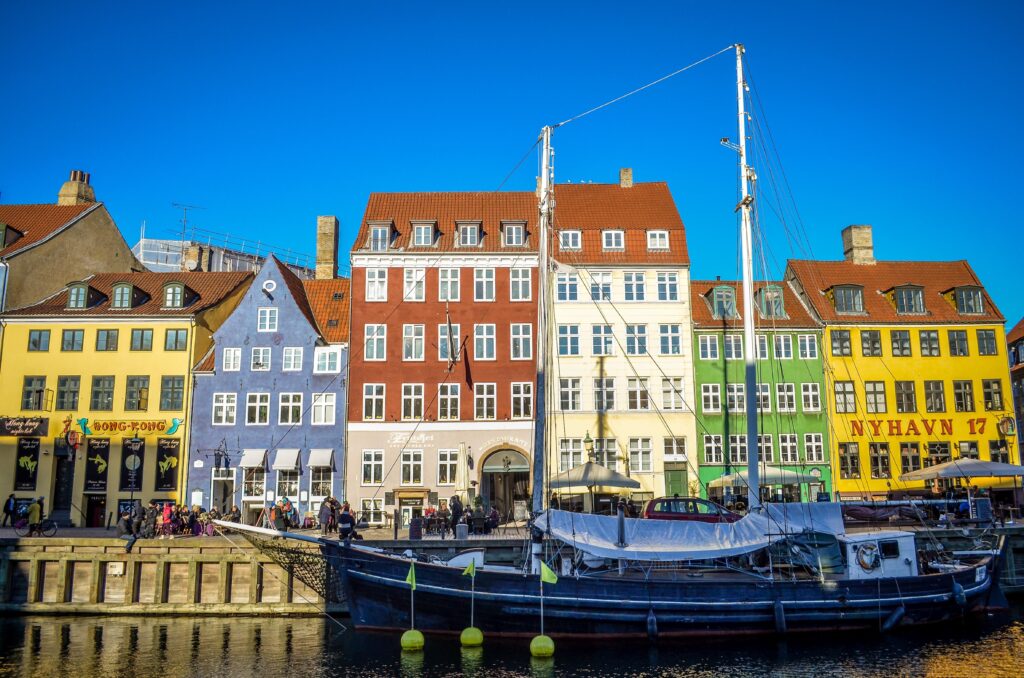 Europe is, by far, the most sustainable continent to live on in the world, with many of its cities being the most sustainable in the world. While Copenhagen just squeezes to the top, Berlin, Stockholm, and Amsterdam definitely deserve an honourable mention.
So, what are they doing right?
Looking at Denmark's capital, Copenhagen has long put sustainability right at the top of its agenda, focusing on adapting public spaces and fostering renewable energies.
A testament to this is Copenhill, turning waste into energy which is supplied to tens of thousands of homes and businesses. Amazingly, it is covered by one of the longest artificial ski and snowboard slopes in the world, making it an attraction for inhabitants and tourists alike.
All of their buses are changing from diesel to electric, and more and more road surfaces are increasingly being devoted to cycling (a very popular form of transport in the city).
On top of this, the city is filled with parks and green spaces, with plans to add a 70-acre nature reserve in one of the more industrial areas. Much of the district has already been regenerated, with additions such as grass roofs that filter rainwater and insulate the buildings.
Recycling levels are also some of the highest in the world, with vending-style machines offering to return a deposit when you insert a can or plastic cup.
By 2025, Copenhagen plan on becoming a net-zero city, even accounting for the 20% increase in urban population by that time.
The efforts of all of the cities on the list are commendable, and to tackle the climate crisis, we need to push our own leaders to follow their example.
Here at Play it Green, we believe that it doesn't matter where you live; anyone can start taking steps to lead a more sustainable life.
And if we change our behaviour as individuals and consumers, we can incentivize businesses and governments to change, too.
Back to articles