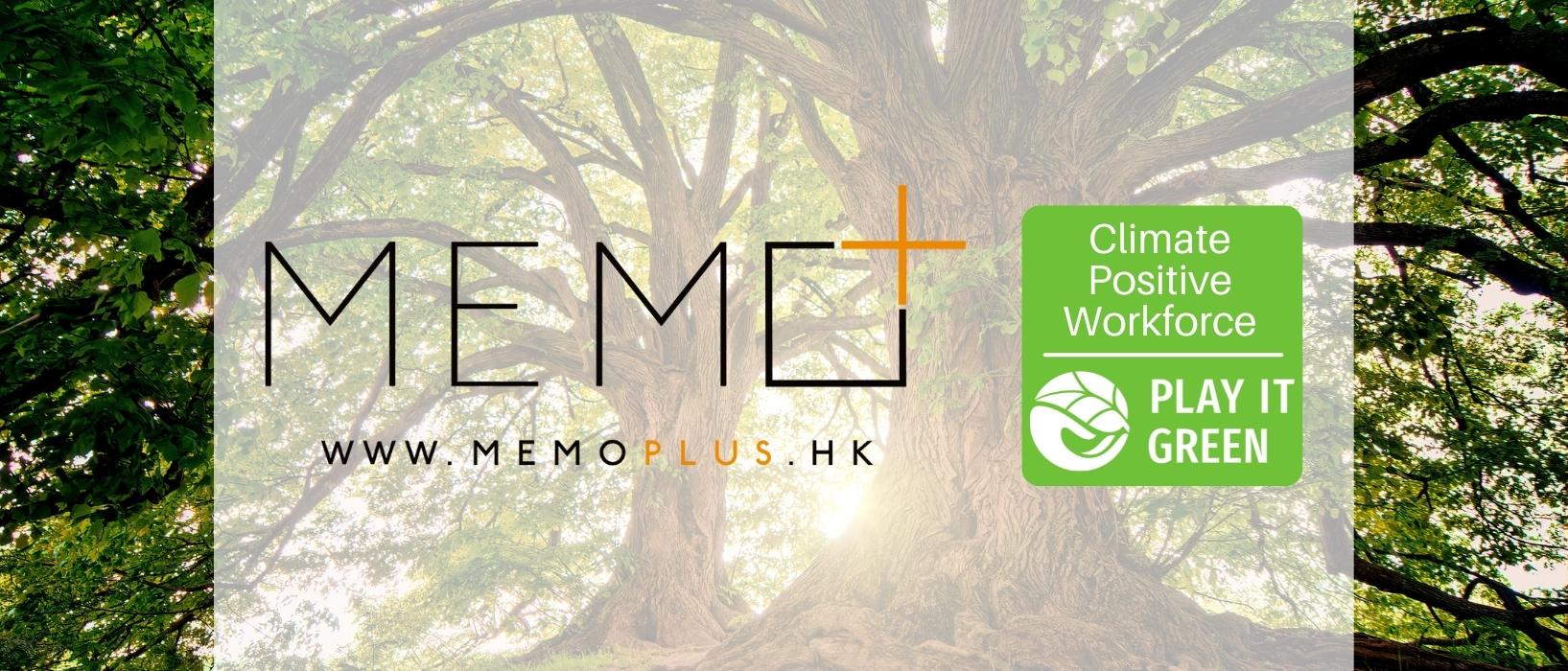 Memo Plus, a Hong Kong-based PR firm, has partnered with Play it Green to reduce their footprint, make their workforce climate positive, repair the planet by planting trees, and give back to a good cause.
MEMO PLUS Production is an integrated PR agency specializing in marketing, profile-raising, public relations, crisis management and brand management. Their unrivalled knowledge of different market sectors and more than 10 years of solid experience has made them an outstanding PR company in Hong Kong and earned them numerous accolades over the years including the PRPA's Gold, Creative, and Most Valuable Company awards.
Through their partnership with Play it Green, Memo Plus will now be provided with the weekly tips and tools to lower their carbon footprint and accelerate their journey to net-zero, while also making an immediate environmental and social impact through the trees they plant.
Enough trees are planted every month to more than rebalance the carbon footprint of their staff's personal lives and all their work-related travel. This helps lift vulnerable people out of poverty, as they are employed not only to plant but to care for the trees as they grow in developing areas of the world. 
Babie Li, founder and PR director of Memo Plus, said on the partnership:
"We are pleased to be the first Asia Partner of Play it Green, as ESG is a growing global trend that many businesses wish to investigate.
We intend to drive and accelerate the growth of ESG PR and communication, and to encourage more companies to engage. With such a strong sense of mission and responsibility from our work, we genuinely think that numerous companies can produce significant sustainability value via ESG.
Participation in ESG can help businesses become more resilient by preparing them for the effects of new crises and assisting them in maintaining solid governance, risk management, and internal controls. ESG can contribute to the viability of businesses in various ways."
Play it Green Co-Founder Richard Dickson added:
"The climate crisis and sustainable change are global issues which have no boundaries or borders. That's why I am really excited that Play It Green has its first partnership in Hong Kong with Memo+ the amazing PR firm joining our global community of change-making businesses."
As part of the new partnership with Play it Green, the management team and workforce will receive a weekly sustainability tip and related discount on a product to help drive behaviour change, enhance the culture, and lower their carbon footprint.
The weekly correspondence includes sustainability articles to ensure members not only become more climate aware but more aware of the solutions available to make progress in this area.
Through Play it Green's unique three-step solution to climate change, Reduce, Repair, Regive, a tenth of all revenues also go to a good cause of the member's choice. MEMO+ has chosen Winston's Wish, supporting children through the loss of a close friend or family member.
MEMO+ will review the nine key programme areas in Play it Green's Net Zero Framework, free to access for all of our business members to help them drive down their footprint even further.
All the trees are guaranteed to be planted and can be tracked by the public through the Memo Plus PR Forest Garden.
Find out how Play it Green can help your business
Back to articles