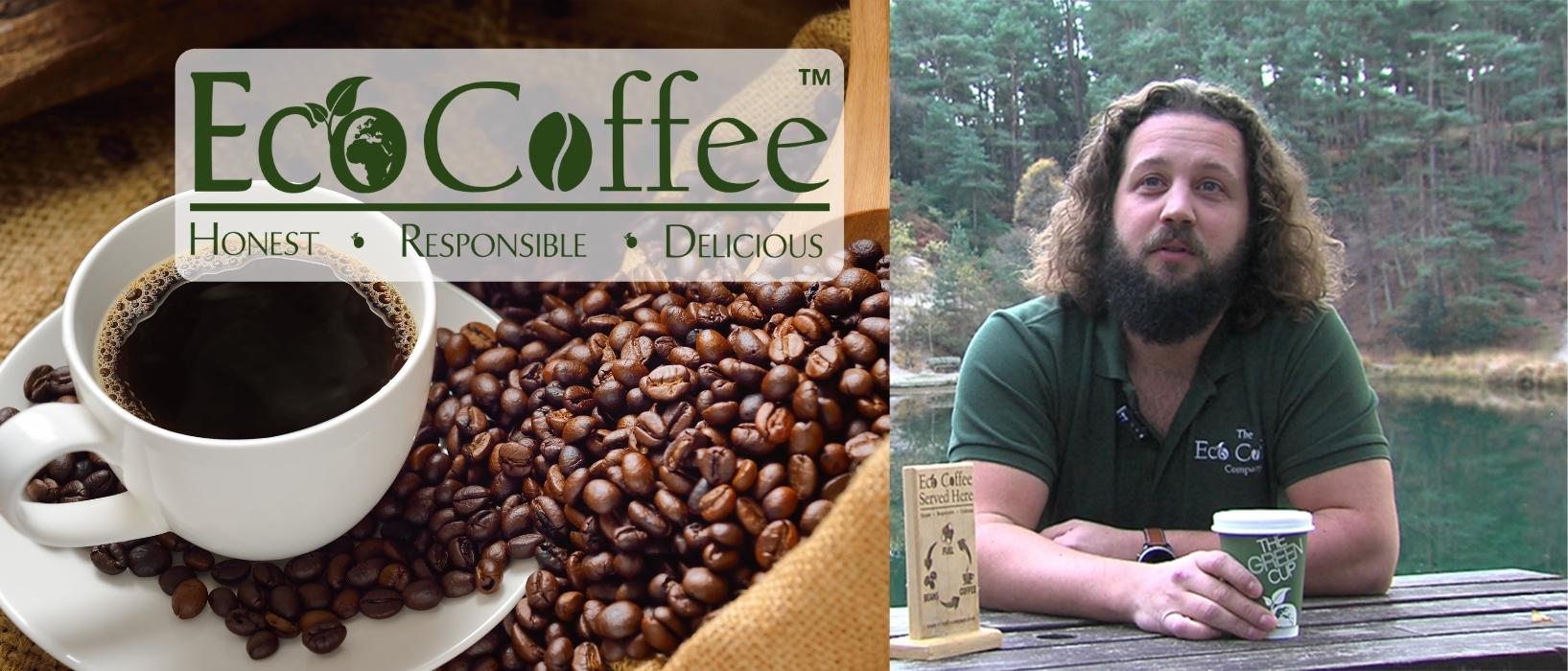 For this week's Member in Focus, we talked to Kieran Mitchell from The Eco Coffee Company all about being a sustainable business, what that means to them, and how Play it Green has helped them on their journey.
To get us started, why don't you tell us a little bit about The Eco Coffee Company and what you do?
We started the company in 2017 with the main aim of supplying quality coffee but soon realised that this wasn't quite enough, we wanted to change the whole aspect of coffee consumption in an environmentally positive way, so founded Eco Coffee the year after. We gave it the tagline "Honest, Responsible & Delicious" to let customers know that it is zero-waste, carbon-neutral and… well, delicious!
We then started to branch out into other environmentally conscious products, these include our plastic-free, recyclable & compostable "Green Cups" and our Reusable, Refillable & Recyclable EcoWater as well. Our reusable travel cups are also a great way of reducing waste. As great as recyclable and compostable items are, we would like to see a greater shift towards reusable as this is clearly the most environmentally positive solution.
Sustainability is, of course, a natural part of your business. What made it so important to you to make a positive environmental impact?
It's not a secret that there is a vast amount of waste being produced around the world on a daily basis, leading to increasing climate change. If we can at least start to reduce this amount of waste, then it will go a long way to reversing the climate change that is affecting the entire global community.
Since your products are so eco-friendly, what made you feel the need to go beyond that?
We believe that it's not quite enough to just create eco-friendly products but to change the whole throw-away culture as well.  Planting trees can not only help with rebalancing the global carbon footprint but also help the lives of the people in the communities where the trees are planted with educational and economic improvements.
Why, in particular, did you choose a Climate Positive Workforce with Play it Green?
With Play it Green we knew straight away that they had the same outlook on climate change that we did. They could offer help to us, which in turn passes on to our customers, that we couldn't offer ourselves.
Being a climate positive workforce meant that we could at least start to live up to our mission statement which is to have a completely sustainable solution to the coffee waste culture that has been a large factor in climate change. The tips that we receive each week have helped our team change their home lifestyle as well by being introduced to other like-minded companies.
What has that been like for you so far? Do your team enjoy it?
Our team has benefitted from becoming climate positive by being a lot more conscious of our lifestyles. Even though we are all very aware of the negative, as well as positive, impacts we have on the climate, we all know that we can improve. Play it Green have helped us all with that.
You also plant a tree for every online meeting you have; how did that come about?
A lot of companies don't take into consideration the emissions created from going to potential client meetings or existing customer meetings… and to be honest, we didn't either before. But when doing an environmental audit in 2019 we realised there were a lot of miles put in across the country that was doing more harm than good for the climate.
So, to offset these emissions we planted a tree, we also started planting trees as a thank-you to customers if they held an online meeting which, as we all learned throughout the pandemic, can be just as productive but also beneficial to everyone.
What would you say to businesses who want to be more sustainable but don't know how to go about it?
We've always talked to customers, fellow businesses and anyone who will listen that there are companies, like Play it Green, whose goal it is to help people/businesses get on to the right track and improve their own environmental philosophy and impact. We can't say enough how important these things are and, undoubtedly, will be.
Does The Eco Coffee Company have any big plans for the future, sustainability-related or otherwise?
We always have plans, we never stop, to be honest. It's a daily routine to be on the lookout, to be proactive in finding the next big, life-improving thing. From creating new, exciting blends of coffee, to finding the best, reusable option for cups. And in the bigger picture, having a fully electric fleet of vehicles and having a fully sustainable, completely climate positive headquarters.
I have a quote in my email footer which has become a kind of mantra… "Sustainability can take forever, but that's the point"
As a Play it Green business member, The Eco Coffee Company is planting trees to balance the carbon emissions of its entire workforce, reducing their footprint with weekly tips and through our Net Zero Framework, and regiving 10% to their chosen charity, Sea Shepherd UK, to protect marine ecosystems around the world.
You can visit the Eco Coffee Forest Garden here; they have planted 2627 trees in just three months!
Your business can do more than you think.
Find out how Play it Green can help you:
Back to articles