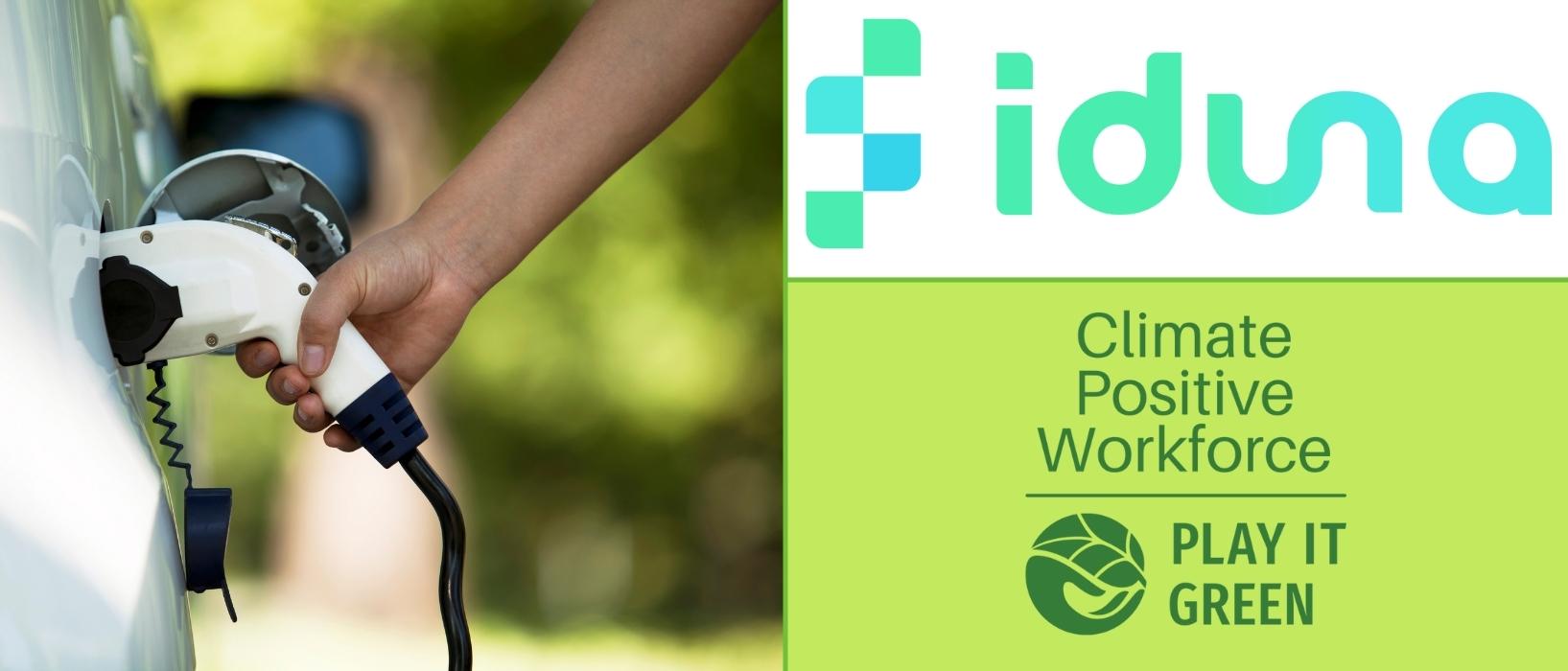 Iduna, experts in sustainable infrastructure development across the mobility, telecoms, and energy sectors, have made their entire workforce Climate Positive through award-winning sustainability experts Play it Green.
By teaming up with Play it Green, Iduna will now make an immediate environmental and social impact by planting trees and providing vital funds to a good cause whilst being provided with the weekly tips and tools to lower their carbon footprint and accelerate their journey to net-zero. 
Iduna will plant enough trees every month to more than rebalance the carbon footprint of its staff's personal lives and all their work-related travel. This helps lift vulnerable people out of poverty, as they are employed not only to plant but to care for the trees as they grow in developing areas of the world. 
Asif Ghafoor, CEO of Iduna, said on the partnership, "As we roll out EV infrastructure in the North of England we believe it's important to create an operating network of chargers, but also to do more than that to create the impact we strive for. For example, developing our petrol forecourt of the future as a Green Oasis, developing parks around the places we charge, and working with partners such as Play it Green are all as important to us as the development of core infrastructure.  We are pleased with this collaboration with a true local partner."
Play It Green has a unique business model which ensures ten percent of all revenues go towards a good cause selected by the member. Iduna will support Shelter to help end homelessness and inadequate housing across the U.K.
Iduna will also review nine key programme areas in Play It Green's Net Zero Framework to plan and action improvements within their business and delivery. The management team and workforce will receive a weekly sustainability tip and relating discount to a product to help drive behaviour change, enhance the culture, and lower their carbon footprint. The weekly correspondence includes sustainability articles to ensure members not only become more climate aware but more aware of the solutions available to make progress in this area.
Chris Thair, Co-Founder and CEO of Play it Green, added, "We are delighted to team up a fellow Manchester business in Iduna. We are both at the forefront of helping others establish the infrastructures and practices that reflect what consumers, employees and supply chains now demand. 
"We welcome Asif and the Iduna team to the Play It Green community, and together we will support each other towards creating a more sustainable future."
Back to articles